I was doing my business taxes a few days ago when it occurred to me that 2023 marks the 20th anniversary of Kid Beowulf! I was surprised because it certainly hasn't felt like twenty years, but when I sifted through archives of art – the sketchbooks, the pitch packets, the early comics, and all the rest – I saw that 2003 was the year that I began doing Kid Beowulf in earnest.
I self-published the first Kid Beowulf comic book in 2003. I made 250 copies of the book, sold it at shows, and printed more. Honestly, not a lot has changed since then…except the art and the writing, both of which have gotten much better with age. The DNA of that first comic is all there though: twin brothers Beowulf and Grendel, Hama the pig, and the talking sword Nagling, all of them falling into adventure.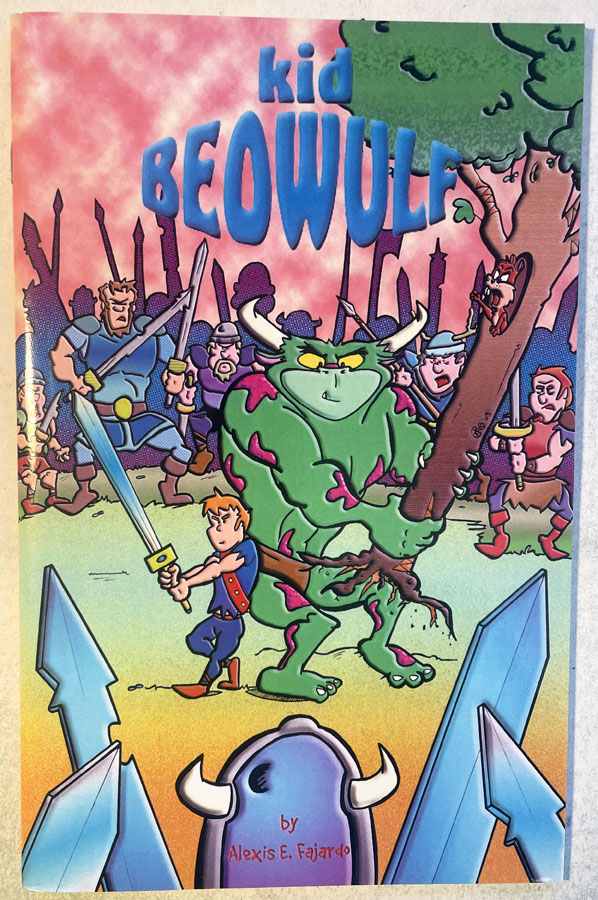 Since that first 22 page comic debuted, I've drawn over one thousand more pages (yes, I counted!) across comic strips, comic books, graphic novels, storybooks, ebooks, apps, webcomics and more. I've gone from self-publishing, to indie publishing, to traditional publishers, and back again. Kid Beowulf has adapted to the ups-and-downs and the ins-and-outs of publishing in the 21st century.
More importantly, I've become a better cartoonist and my passion for it hasn't diminished, it only grows as I get better. I'm proud of what I've accomplished so far and look forward to the stories yet to come.
So to commemorate twenty years of slinging ink, I'll open the archives and share some of those first images and stories (follow #KIDB20 on your social channels). I'll be hitting the road to celebrate at conventions, book fairs, shows, and events (book me for yours!).
And to top it all off, a brand new book is coming its way later this year which we'll celebrate with a kickstarter. I'm looking forward to all the fun stuff that's in store for 2023. We may be twenty years into Kid Beowulf but there's plenty more to come. Stay tuned!