"Lex was a big hit at our campus with the students and staff! Awesome, fluid presentation. My principal kept turning to me and saying, 'This is so cool!' It's been a week already and the kids have not forgotten – they want to read Kid Beowulf. There's a waiting list." – Rosie P., School Librarian, Santa Rosa CA
Lex is available for presentations, panels, and in-class skype visits.  Invite him to talk about cartooning and the storytelling for your elementary school, library, university, or comic convention.
About the Presentations
Presentations are 45-60 minutes and feature an in-depth discussion on how Lex creates his comics: from the inspirational source material found in history and mythology; to how a script is written; to how characters are created and comic book pages are constructed.  All the bases are covered in this informative glimpse into crafting the Kid Beowulf graphic novel series. There is time for Q&A and live-drawing. Ideal for grades 3–7
Virtual Visit
Lex can also do virtual author visits a 60-minute visit (via Skype/Zoom/Gchat) with classrooms, book groups, and library groups. The visit will include a multimedia presentation, read-alongs, a live drawing demonstration, and Q&A.
Book Fairs
Have a book fair coming up? Invite Lex to your school for an afternoon talk and he'll return that evening for your book fair! Lex can bring and sell book inventory directly to parents and students for a fun meet-and-greet with the author.
Adult Groups
Lex is also available to speak to adult groups about creativity, art, and storytelling at conferences, school, and libraries. These presentations focus on the graphic novel marketplace and how to create and market your story in the current publishing landscape. Lex delves into how he creates his own work as well as his role as Editorial Director at the Charles M. Schulz Studio. Lex has given talks to SCBWI, library groups, and at educational conferences.
Required Tech
Television, screen, and/or projector with VGA and/or HDMI hookup
Speakers (for a multi-media component/small computer speakers are fine)
Large drawing pad and fresh markers
A microphone for groups larger than 75 people
Wi-Fi access (if available)
Resources
"This book is the perfect example of the power of graphic novels as meaningful literature that deserve a place in every classroom."– Tim Smyth, Historycomics.net
Get Kid Beowulf on Library Pass and on EPIC!
Are you using Kid Beowulf in your classroom? Be sure to download the free Teacher's Guides below for classroom discussion and activities for your students!
BOOK 1 GUIDE         BOOK 2 GUIDE        BOOK 3 GUIDE     BOOK 4 GUIDE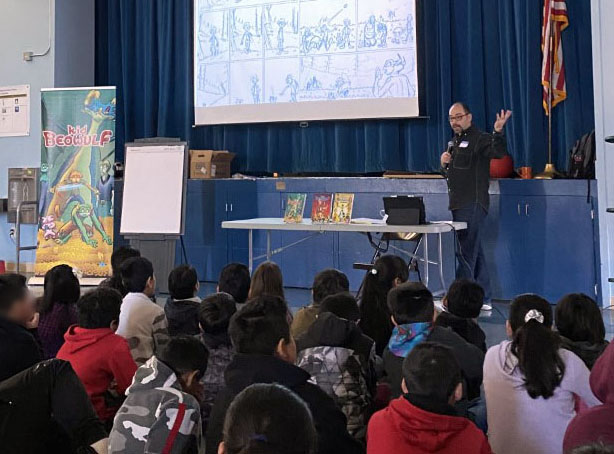 Lex is always happy to work with teachers, professors, and librarians to craft the best presentation for their students. Contact Lex for availability!