"What Rick Riordan did for the Greek Gods, Fajardo has done for 'Beowulf': magnificent." – Kirkus Starred Review
History, mythology, and adventure converge in the graphic novel series Kid Beowulf. Follow the story of 12-year-old twin brothers, Beowulf and Grendel as they travel across distant lands and meet fellow epic heroes therein! The series is ideal for fans of Bone, Usagi Yojimbo, and Asterix.
About the Author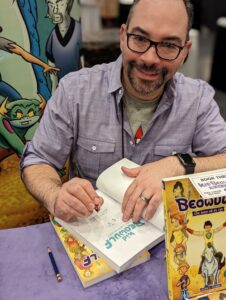 Alexis E. Fajardo is an Eisner award-winning editor and cartoonist. Lex has created a unique blend of comedy, literature, and high-adventure in his graphic novel series, Kid Beowulf. Lex is a member of the National Cartoonist's Society; Society of Children's Book Writers & Illustrators; and been a National Writing Juror for the Scholastic Art & Writing Awards.

When he's not drawing comics, Lex works for them as Editorial Director at the Charles M. Schulz Studio in Santa Rosa, California, where he edits Peanuts books, written exhibition material for the Charles M. Schulz Museum and Snoopy Museum Tokyo, and won the 2018 Eisner Award for editing the Best Archival Project, "Celebrating Snoopy" published by Andrews McMeel.
Lex has been a featured guest at numerous comic-cons and conferences. Invite him to your next event!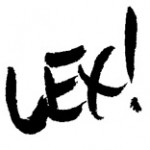 AUTHOR Q&A
Q: What is your full name and how do you pronounce it?
A: My name is Alexis E. Fajardo and I've had that name all my life! "Alexis" is a Greek name; the "E" stands for "Enrique" – a Spanish family name; and "Fajardo" ('fa-har-doe') is also Spanish (my father is from Spain). It has a rich history that goes all the way back to 10th century Spain (which I touched on in book three, The Rise of El Cid). I like all of my names, but it can also be a mouthful so a lot my friends just call me "Lex" 😉
Q: When did you start reading comics? Did you always want to make them?
A: I've been reading comics all my life! Growing up, I read the daily comic strips with my cereal; some of my favorites were Peanuts, Calvin & Hobbes, The Far Side, Bloom County, and Doonesbury. For a long time I wanted to be a comic strip artist and I did a comic strip called Plato's Republic that I tried to get syndicated before moving to longer form comics. As for comic books, I've been a life-long fan of Spider-man and collected Marvel Comics and other comic books for a long time. The biggest influence on my work though has been the French comic Asterix, which I was introduced to when I was 8-years-old (I still have my copy of Asterix the Legionary I was first given). I immediately fell in love with the story and the art and I knew that I wanted to draw comics just like it when I grew up. I'm still trying.
Q: What do you use to make your comics?
A: It usually begins with an idea for a story and lots of sketches in my sketchbook. I like to write out full scripts for my stories before I draw them. Once I have the script done I begin to do thumbnails of the comic pages (small drawings) for pacing and placement. Then I begin to draw everything on 11″x14″ Bristol board with prismacolor blue pencils. After I pencil the pages I start to ink them (my favorite part). I ink with a variety of Japanese brush pens (Zebra pens are my favorite), technical pens (Microns), and a traditional dip brush (Windsor Newton Series #0 -#3). After the inking is done I scan the pages into the computer, clean them up in Photoshop and send the BW pages to my colorist Jose. Then I will begin doing the word balloons and lettering in Photoshop using a font made from my handwriting. There are lots of meticulous stages to making comics and the average page can take up to a few hours to pencil, ink, color, and letter. Comics are A LOT of work.
Q: Why Beowulf?
A: Along with comics, I have always loved reading mythology, legends, and folklore. I grew up reading and memorizing all the Greek and Norse myths (The Odyssey is my favorite story) but it wasn't until high-school that I read epic poetry in verse with Burton Raffel's translation of Beowulf. Something about the language of the poem caught me – it was visceral and primal and the story was fun and memorable – I could see all the descriptions so very clearly and the story always stayed with me. In college I studied Classics (Greek and Roman studies) and spent lots of time reading and re-reading Homer and Virgil. For some reason though when I decided to make a new comic I was drawn back to Beowulf. I distinctly remember re-reading it one day and thinking how funny it might be to envision the big, invulnerable, Viking hero, Beowulf as a kid. And that's where it began. The first Kid Beowulf stories were funny and irreverent (in the vein of Asterix) but the more I worked with the epic poem, the more I realized that my storytelling strengths leaned toward action, adventure, and mythology. So that's what my comics have become: a way for me to introduce readers to these old stories and heroes they might not be familiar with and inspire them to read the original source material my stories are based on.
Q: Are you going to make a Kid Beowulf movie?
A: I would love to see an animated version of Kid Beowulf. My focus for now is on the books, but I've done lots of trailers and it would be fun to work with talented animators to turn KidB into an animated series.
Q: Can you sign my book?
A: Sure! You can order autographed editions of the books in my Studio Store.If you already have a copy just bring it to the next comic-convention or book fair I'm at and I'll happily sign it for you!
Q: Do you have any pets?
A: I do! For a long time I had a wonderful Border-collie named, Loki who I adored. Now I have another wonderful dog named Oso (which means "bear" in Spanish) who I also adore. He's part Border-Collie/part Great Pyrenees and almost as big as a bear. I love dogs! 🙂
Q: Do you have any hobbies?
A: Yes! My favorite hobby is fencing (swords!) and I try and do that a couple of times week at my fencing club. I also like to watch movies and animation and I love to read all sorts of books: history, mythology, and of course – comics!