Kid Beowulf is filled with magic, intrigue, betrayal, and all the other good stuff that makes for a good story. – Good Comics for Kids
Inspired by the epic poem BEOWULF, Kid Beowulf is an action-adventure graphic novel series following the adventures of 12-year-old twin brothers, Beowulf and Grendel as they travel across distant lands and meet fellow epic heroes therein!
The Kid Beowulf Catalogue:
Book 1: Kid Beowulf: The Blood-Bound Oath (2016 – remastered, full color edition)
Book 2: Kid Beowulf: The Song of Roland (2017 – remastered, full color edition)
Book 3: Kid Beowulf: The Rise of El Cid (2018 – remastered, full color edition)
Handbook: The Kid Beowulf Reader (2014)
Short Story: Kid Beowulf Eddas: Shild and the Dragon (2015)
Short Story: Kid Beowulf Eddas: Paladins Tale (2016)
About the Author
Brief Bio:
Alexis E. Fajardo is a student of the classics – whether Daffy Duck or Damocles – and has created a unique blend of the two in Kid Beowulf.  When he's not drawing comics Lex is working for them as Senior Editor at Charles M. Schulz Studio in Santa Rosa, California.
Extended Comics Bio:
Born on January 5th, 1976 in Concord, New Hampshire, Alexis Enrique Fajardo has lived on a steady diet of comics, cartoons, reading, and sports.  Lex grew up in Bloomington, Illinois surrounded by a loving family of parents, three sisters, and many pets.  The first comic that grabbed his attention was a paperback edition of Walt Kelly's Pogo – he didn't get the jokes but he certainly loved the images.  Lex's father taught him about the finer things in life: including Abbot & Costello, Warner Bros. cartoons, and the Red Sox.  When a family friend introduced Lex to Asterix the Legionary, he fell in love with comics for good and knew he wanted to draw comics for the rest of his life.  Lex would write and draw stories thereafter, often mixing in his love of mythology, adventure, and humor wherever he could.
Lex's first foray into comics was through creating comic-strips for his junior high, high-school, and college newspapers where he crafted his own strip about the foibles of a platypus named Plato.  His comic strip, Plato's Republic had a lively life running weekly in his college's newspaper The Earlham Word.  Lex graduated from Earlham College in 1998 with a degree in Classics.  Shortly thereafter he returned to his high-school town of Binghamton, New York where he got his first studio and began refining his comic strip while sending it out to syndicates for publication. He also began showing the strip online as a webcomic; Plato's Republic ran three days week online from 1998 through 2007 placing it in the first wave of webcomics.  Breaking into the comics industry as a syndicated cartoonist proved more difficult than expected, however and after 13 years and many rejection slips Lex retired Plato's Republic in 2008 to pursue his new series, Kid Beowulf full time.
Kid Beowulf began as a side project while Lex focused on his comic strip.  Originally drafted a satirical mini-comic, Lex and his friend Luke O'Brien scripted two minis in 2000 with art chores by Lex.  As Lex's art improved over the course of doing Plato's Republic, and inspired by long form comics like Jeff Smith's, Bone, Lex began to rethink Kid Beowulf and decided to rewrite and draw the comic as an ongoing graphic novel series.  In 2003 Lex self-published the first 200 page Kid Beowulf graphic novel in black and white through his studio imprint, Ambition Studios.  After selling through the first run, Lex republished the book under his Lexpress label in 2005.  In 2007 while promoting the book at comic conventions Lex met publisher Bo Johnson who was starting his imprint Bowler Hat Comics. Bo signed Lex for the first three book in the Kid Beowulf series.  It was also in 2007 where Lex was hired at Charles M. Schulz Creative Associates and relocated to Santa Rosa, CA.  With the advent of a new publisher, Lex took this opportunity to rewrite and redraw the first book and relaunch the Kid Beowulf series in 2008 with the black and white edition of Kid Beowulf and the Blood-Bound Oath. This was followed in 2010 with the black and white edition of Kid Beowulf and the Song of Roland.  Unfortunately, in the midst of production of book three, Bowler Hat Comics ceased operation.  Lex bought back the rights to his work and finished book three, self- publishing Kid Beowulf and the Rise of El Cid in 2013.
Throughout the course of his comics career Lex has made a habit of exhibiting his work at conventions across the country, getting his books to new readers, and making new friends and fans in the comics community. It was through these conventions Lex met an editor at Andrews McMeel publishing who brought Kid Beowulf to their AMP! Comics for Kids line and in 2016, Kid Beowulf was launched anew in full color with Kid Beowulf: The Blood-Bound Oath.  Book two, Kid Beowulf: The Song Of Roland is slated for a March 2017 release.  Lex is thrilled to be a part of the impressive roster of Andrews McMeel creators and looks forward to creating many more books for them in his Kid Beowulf series.
Lex's non-comics life includes a happy marriage to his wife, Cathy, rousing games of fetch with his dog Loki, and swashbuckling derring-do on the fencing strip.
Visit Lex's profile on Lambiek!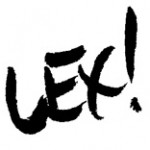 Email: lex@kidbeowulf.com Follow Lex on TWITTER & INSTAGRAM