These broadly adapted retellings add a lot of fun and fighting to the basic bones of the classic tales! – A Parent's Guide To The Best Kids Comics
Inspired by the epic poem BEOWULF, the Kid Beowulf series follows the adventures of 12-year-old twin brothers Beowulf and Grendel, as they travel to distant lands and meet fellow epic heroes therein!
Kid Beowulf is similar to BONE, Wings of Fire, and Avatar: The Last Airbender.
Visit Lex's STUDIO STORE for autographed editions!
Suitable for Grades 6 & up or ages 9+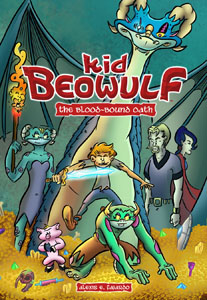 Book 1 – The Blood-Bound Oath

Starred Review: Kirkus, and The Bulletin of the Center for Children's Books, named on Kirkus' best books of 2016.
This is the origin story of twin brothers Beowulf and Grendel, separated at birth and reunited by an extraordinary family: their grandfather, the imperious King Hrothgar; their monstrous (but loving) mother, Gertrude; their fire-ghost of a father, and their other grandfather – the towering, one-eyed Dragon whose bloodline links them all in their ancient home of Daneland. Oh yeah, there's also a pig and a talking sword! The series begins here as Beowulf and Grendel discover their past and their destiny.
$12.99, Full Color,  6″x9″, 240pgs, ISBN 978-1449475895 AMAZON – INDIE BOUND – BARNES & NOBLE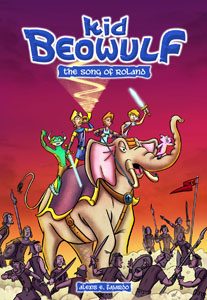 Book 2 – The Song of Roland
Beowulf and Grendel are banished from their homeland and seek refuge with their Uncle Holger in far off France but the kingdom is in shambles: King Charlemagne is ailing, his knights are exiled, and France's hero, Roland, needs a kick in the pants! It's up to Beowulf and Grendel to unite the country before it's taken over by an invading Saracen horde!
$12.99, Full Color, 6″x9″, 276pgs, ISBN 978-1449475901 AMAZON – INDIE BOUND – BARNES & NOBLE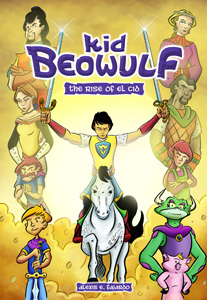 Book 3 – The Rise of El Cid
Beowulf and Grendel are in medieval Spain where they meet new friends, fight old foes, and are mistaken for ancient gods! Inspired by the Spanish epic poem, El Cid, this adventure traces the rise of a young knight named Rodrigo, who fights for the name he's lost, the land he loves, and virtue long forgotten. It's an action-adventure swashbuckler with a dash of romance!
$12.99, Full Color, 6″x9″, 254pgs ISBN 978-1449493844 AMAZON – INDIE BOUND – BARNES & NOBLE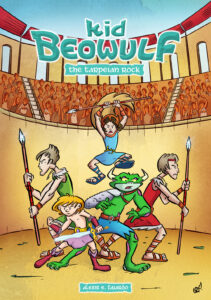 Book 4 – The Tarpeian Rock
In this action-packed graphic novel, twin brothers, Beowulf and Grendel are lost in ancient Italy, trapped as slaves who must fight for their freedom in the gladiatorial games. There in the arena the brothers will battle fearsome warriors, deadly beasts, and meet another pair of twins, Romulus and Remus. It all leads to the founding of the world's most epic city: ROME!
RELEASE DATE: AUGUST 10th, 2021
SIGN UP FOR NOTIFICATIONS & PREORDER INFORMATION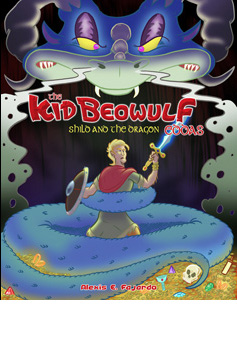 Short Story – Shild and the Dragon

Before Beowulf and Grendel there was Shild and the Dragon! In this stand-alone story Beowulf's great-grandfather Shild encounters the Dragon in the wilds of Daneland and learns about a world filled with monsters, slayers, and his special place in it…and Shild is in for the fight of his life!  "Shild and the Dragon" is the first story in a new series of Kid Beowulf Eddas – stories exploring the rich world of characters from Kid Beowulf.
$9.50, Full Color, 6″x9″, 40pgs. Available on AMAZON and COMIXOLOGY
Short Story – Lookin' For Lingonberries
When 12-year-old Beowulf dreams of lingonberries the only thing to do is go and look for some, but what he finds is a whole mess of trouble! Can Beowulf survive a day out in the wild or will he and his pig Hama become a Heathobard's breakfast?
$2.99, Full Color, 22 pages – Available on COMIXOLOGY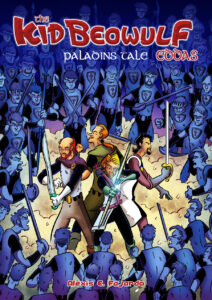 Short Story – Paladin's Tale

When the Franks are ambushed by the Saracens deep in the Pyrenees mountains, King Charlemagne's elite knights, the Peers, are accused of high treason. Betrayed, framed, and locked away, the king's men escape to fight another day! Paladin's Tale is an untold tale from pages of Kid Beowulf: The Song of Roland, the second graphic novel in the Kid Beowulf series! Ideal for fans of Bone, Asterix, and Amulet. A bonus Kid Beowulf story, "Lookin' for Lingonberries," is included in this issue!
$14.95, Full Color, 6″x9″, 70pgs. Available on AMAZON and $3.99  COMIXOLOGY
Short Story – Lay of the Last Survivor
Long before she protected her sons, Beowulf and Grendel, Gertrude protected another…Led by a brutal warrior, a crew of Viking raiders storms the winter coast of Daneland and takes no survivors.  When fifteen-year-old Gertrude stumbles upon their camp and finds a lone child amongst the dead she is compelled to get it to safety…or die trying.
$2.99, Full Color, 6″x9″, 37pgs – Available on AMAZON and COMIXOLOGY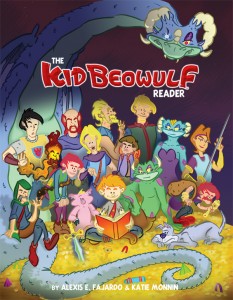 Handbook – The Kid Beowulf Reader
Part classroom guide and part historiography, The Kid Beowulf Reader is over 200 pages of full-color fun and insight into the creation of the first trilogy.  Featuring in-depth character dossiers, behind-the-scenes process pages, and exclusive artwork this book perfect for fans who want to peek behind the curtain!  The Kid Beowulf Reader also features lesson plans and discussion questions for the teachers using Kid Beowulf in class.  Developed by education expert Dr. Katie Monnin and aligned to the new Common Core Standards, this guide is sure to become an invaluable resource for teachers, librarians and fans alike!
$12.00, BW, 7″x9″, 240pgs, Available on AMAZON