Lex is available for presentations, panels, and in-class skype visits.  Invite him to talk about cartooning and the storytelling for your elementary school, library, university, or comic convention!
Use Kid Beowulf in your classroom and download these Teacher's Guides!
Praise for Lex's School & Author Visits 
"There are few things more daunting than standing in front of a gymnasium full of vibrating elementary students. Lex is able to keep them all on the edge of their seats by weaving together the mythology, humor, excitement and non-stop entertainment of his Kid Beowulf series into his presentations. By the end, the kids had more questions than time allowed, and left the presentation with unique insights into how you can combine your interests, imagination, and hard work to create amazing stories!" – Nathan L., Teacher/Librarian, Petaluma CA

"Lex was a big hit at our campus with the students and staff! Awesome, fluid presentation. My principal kept turning to me and saying, 'This is so cool!' It's been a week already and the kids have not forgotten – they want to read Kid Beowulf. There's a waiting list." – Rosie P., School Librarian, Santa Rosa CA

"Great presentation last week. What a wonderful imagination you have and beautiful characters. Thanks again for all you do to make reading and storytelling inspirational!" – Ruth M., School Arts Coordinator, Santa Rosa CA
About the Presentations:
Presentations are 45-60 minutes and feature an in-depth discussion on how Lex creates his comics: from the inspirational source material found in history and mythology; to how a script is written; to how characters are created and comic book pages are constructed.  All the bases are covered in this informative glimpse into crafting the Kid Beowulf graphic novel series. There is time for Q&A and live-drawing. Ideal for grades 3–7
Book Fairs
Have a book fair coming up? Invite Lex to your school for an afternoon talk and he'll return that evening for your book fair! Lex can bring and sell book inventory directly to parents and students for a fun meet-and-greet with the author.
Virtual Visit:
Lex can also do virtual author visits a 60-minute visit (via Skype/Zoom/Gchat) with classrooms, book groups, and library groups. The visit will include a multimedia presentation, read-alongs, a live drawing demonstration, and Q&A.
Adult Groups:
Lex is also available to speak to adult groups about creativity, art, and storytelling at conferences, school, and libraries. These presentations focus on the graphic novel marketplace and how to create and market your story in the current publishing landscape. Lex delves into how he creates his own work as well as his role as Editorial Director at the Charles M. Schulz Studio. Lex has given talks to SCBWI, library groups, and at educational conferences.
Pricing

FULL DAY VISIT AT YOUR SCHOOL: 4 × 60 minute classroom or assembly visit. Includes a Q&A/lunch with an author during a school day – $1,400.00
HALF DAY VISIT AT YOUR SCHOOL: 2×60 minute classroom or assemble visit. Includes a Q&A/lunch with an author during a school day – $800.00
QUARTER DAY: One 60 minute classroom or assembly visit during a school day. Includes Q&A – $400
VIRTUAL VISIT: Online presentation and Q&A – $200
KEYNOTE TALKS for in person conferences or events: One hour talk: $1,400
Fees displayed are per day + Travel/Expenses. For visits out of state, there is a $800 minimum per day plus expenses. If there is strong interest but budget challenges please reach out directly to me to discuss options and we can discuss what type presentation will work best: lex@kidbeowulf.com

Required Tech
Television, screen, and/or projector with VGA and/or HDMI hookup
Speakers (for a multi-media component/small computer speakers are fine)
Large drawing pad and fresh markers
A microphone for groups larger than 75 people
Wi-Fi access (if available)
Book Signings are Encouraged and discounts available!
Any venue inviting Lex to speak should also allow participants the opportunity to buy books. I recommend working with your local bookseller to get books. For the Bay Area I recommend working with Copperfield's Books or Books Inc. who can provide order forms and books. You can also do this directly though Lex. Interest in the books always goes up after a visit and students often request books to purchase; working with a local bookseller is a great way to ensure that books are available to your students!
Discounted books for author events are also available through my publisher. If you wish to purchase any class sets, you can get up to a 40% discount ordering direct from the publisher. Tell them I am doing an in-person visit and reach out to specialsales@amuniversal.com
Resources
Are you using Kid Beowulf in your classroom? Be sure to download these free Teacher's Guides for questions and activities for your students!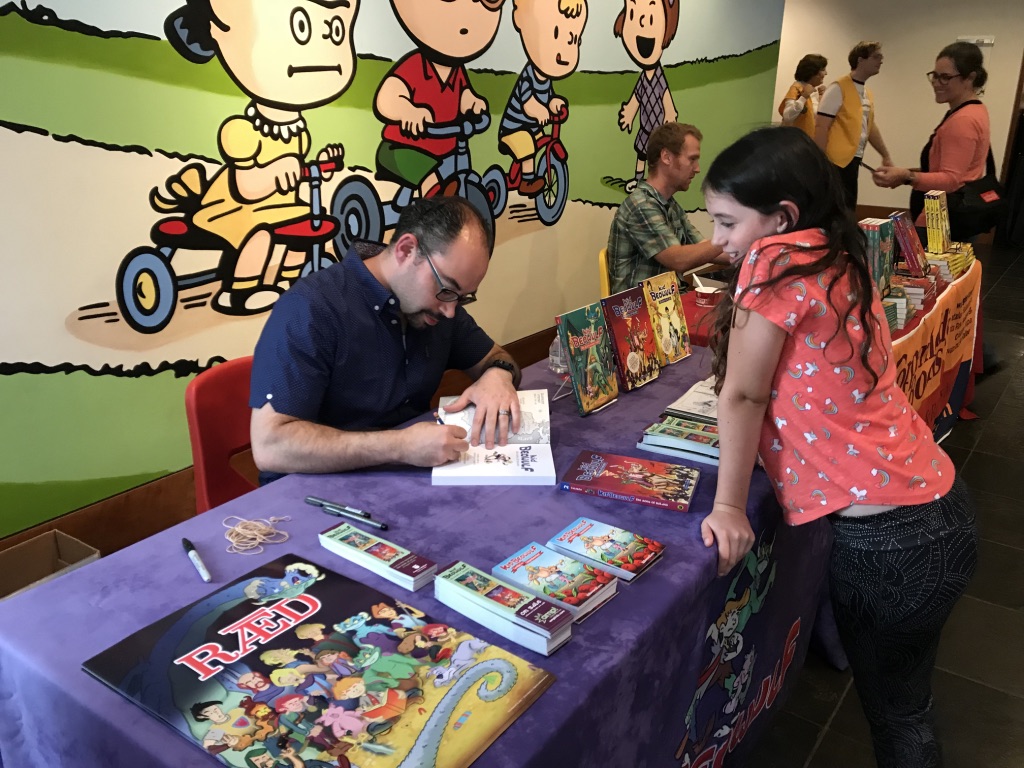 Lex is always happy to work with teachers, professors, and librarians to craft the best presentation for their students. For availability please email Lex: lex@kidbeowulf.com