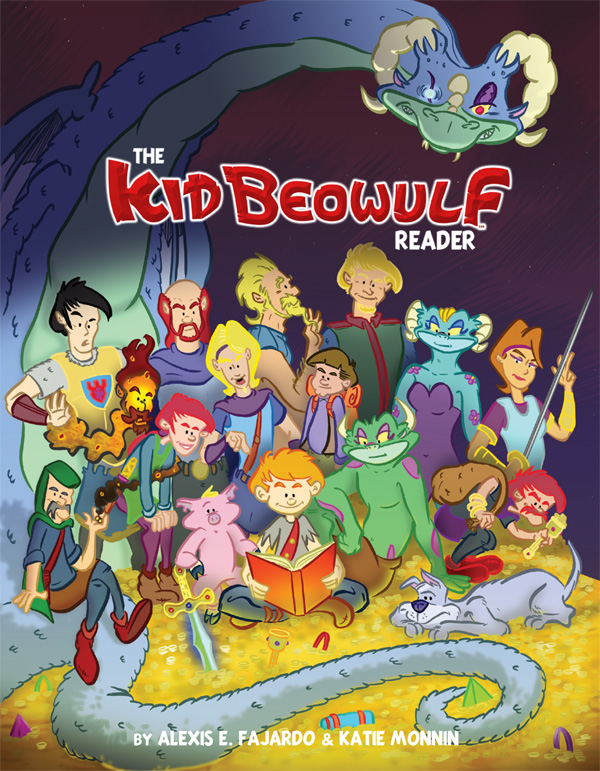 I'm happy to announce a new book in the Kid Beowulf series now available for your bookshelf: The Kid Beowulf Reader!  Part classroom guide and part historiography, The Kid Beowulf Reader is over 200 pages of fun and insight into the making of the first trilogy.  Written by myself and education expert, Katie Monnin, we've worked together for the last year to develop a one-of-a-kind guide for teachers, librarians, and fans alike!
Those of you who supported the 2012 Kid Beowulf Kickstarter might recall the stretch goal I had in place, which was to develop a reader's guide for the series.  I contacted my friend and longtime KidB. supporter, Katie Monnin to help me put the guide together.  Katie holds a PhD in Curriculum and Instruction and is currently an Associate Professor of Literacy at the University of North Florida.  She's the author of a number of books on using graphic novels in classrooms, including Teaching Graphic Novels (2010), Teaching Early Readers Comics and Graphic Novels (2011), and Using Content-Area Graphic Texts for Learning (2012).  She was also an Eisner Judge in 2013 and has a regular column on the Diamond Bookshelf site. In short: Katie knows her comics. (Check out a full list of her books here).
Our goal for The Kid Beowulf Reader was to develop a guide that would hit all the interest levels for KidB. including: general fans of the series, kids and creators who might want to create comics of their own, teachers and professors who use the series in class, librarians who have the books in their libraries, and align it all to the new Common Core Standards.  I originally was shooting for an 100 page book, but the more I dug through my archives and began writing, the more I discovered – the final book clocks in at 240 pages!  In short, this book has got everything you could possibly hope to find about the making of the first trilogy.  It looks sharp and I'm very happy with how it turned out.
All backers of the Kid Beowulf Kickstarter received a free PDF copy of the book, but now I'm making The Kid Beowulf Reader available to everyone.  Two versions are available: a full-color PDF copy which will work on all tablets and computers, as well as a BW hardcopy edition available through Amazon's Createspace.  I'll also have copies with me at upcoming shows and conventions so you can score a signed copy then too if you like.  You'll find lots of great information in The Kid Beowulf Reader and hopefully it will inspire you to check out the source material for the series and invite you to re-read the Kid Beowulf Trilogy again!